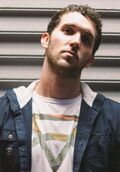 Tim Nelson, profesionally known as Betatraxx is DJ and producer from Los Angeles. He produced and co-wrote the song "Electra Heart".
In January 2014, the producer stated to fans on Twitter that he has been working on a "bigger and stronger" version of the song with Marina, which we can expect to hear "shortly".
Ad blocker interference detected!
Wikia is a free-to-use site that makes money from advertising. We have a modified experience for viewers using ad blockers

Wikia is not accessible if you've made further modifications. Remove the custom ad blocker rule(s) and the page will load as expected.