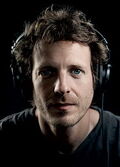 Łukasz Sebastian Gottwald (born 1973), better known as Dr. Luke, is an American songwriter, record producer, multi-instrumentalist, and remixer. He co-wrote and co-produced songs for Marina's second album, Electra Heart. He also worked with famous artists such as Kesha, Avril Lavigne, Miranda Cosgrove, P!nk, Backstreet Boys, The Veronicas, Katy Perry, Lady Sovereign, Miley Cyrus, Britney Spears, Becky G, Sugababes, Kelly Clarkson, etc. His most successful productions include Britney Spears' ''Hold it Against Me'', Avril Lavigne's "Girlfriend", and Kesha's "Tik Tok".
Collaborations with Diamandis
Edit
Ad blocker interference detected!
Wikia is a free-to-use site that makes money from advertising. We have a modified experience for viewers using ad blockers

Wikia is not accessible if you've made further modifications. Remove the custom ad blocker rule(s) and the page will load as expected.