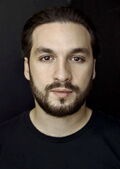 Steve Angello (born Steven Angello Josefsson Fragogiannis, November 22, 1982) is a Greek-Swedish disc jockey, record producer and record label owner. He co-wrote "Power & Control" for Marina and the Diamonds' second album, Electra Heart.
Ad blocker interference detected!
Wikia is a free-to-use site that makes money from advertising. We have a modified experience for viewers using ad blockers

Wikia is not accessible if you've made further modifications. Remove the custom ad blocker rule(s) and the page will load as expected.